Passing on wood knowledge
from Generation to generation
"The whole world is standing on our floors. Of course I'm proud!"
What makes a good product great?
What makes a product go from good to great? We are certain that the key to success lies in the people that produce it. It is their passion and knowledge that ensures that the quality that we have been delivering over the years continue to distinguish our floors from the many others. Many of our employees have been working at the Nybro plant for several decades – in some cases generations – passing on their knowledge to new family members, friends and neighbors that start working at Kährs. Meet three pillars of the company.
"A second family." This is how these employees at Kährs in Nybro describe their colleagues and workplace. Despite their different backgrounds and assignments in the production process, they all share a long history in the company, deep wood knowledge and a passion for the end product. Much of the activities in Nybro, bordering the deep forests of Småland, circle around our wood flooring producing plant, which provides jobs, heat and a natural meeting place.
Zoran Stankovic, second generation who returned to Kährs
– I learn new things every day. Since I left in 2003, the production process has undergone dramatic changes. But there is a great atmosphere here and people are more than willing to share their knowledge. That's one of the things I really like about working at Kährs and why I returned to the company, says Zoran Stankovic, who was at Kährs between 1994 and 2003 and then came back in August 2016 to work with producing the core of the floors, quickly advancing to group leader in his shift.
– My father worked at Kährs for 40 years.
He taught me to love my job. As a youngster, I thought it was a great place to be. Of course, you sometimes feel you should try something different. I ran my own company for some years, but now it's great to be back.
– I know everyone here feels passionate about the beautiful, high-quality floors that we produce. I mean, the whole world is standing on our floors. Of course I'm proud!
Adivije Dalipi, 31 years at Kährs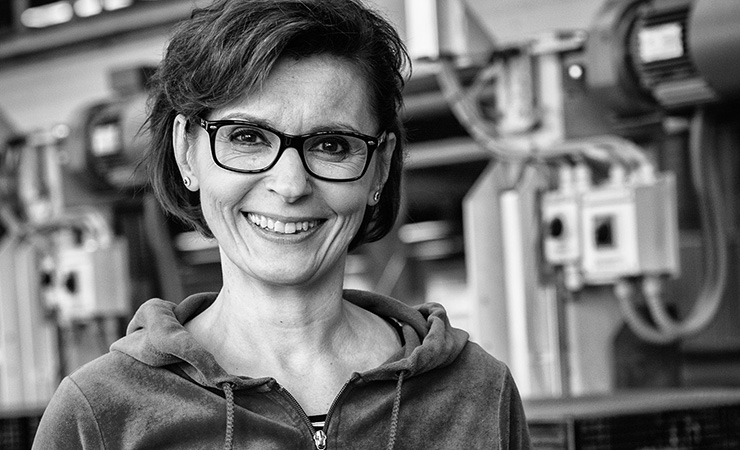 – I love the smell of wood, the sensation when you touch a smooth plank and I take pride in the feeling that we produce the best quality wood floors in the world", says Adivije Dalipi, who joined her father at the plant when she was 18.
– It felt natural to start here – apart from my father, three of my sisters, my brother, husband, as well as my sisters' husbands and several of the friends that I went to school with work here. This is like a second home for me, says Adivije, who works at the production line, ensuring that the right pieces of wood are selected for each floor. "You could say that Kährs is in our genes", she adds, laughing.
– My parents came here from Macedonia in the 1960's, when my father was offered a job at Kährs. This company has meant so much to us. I feel a strong sense of solidarity with Kährs and always try to do my best at work. We have a beautiful Kährs floor in our home – so you could say that a great part of my life circles around the company.
Stefan Larsson, 28 years at Kährs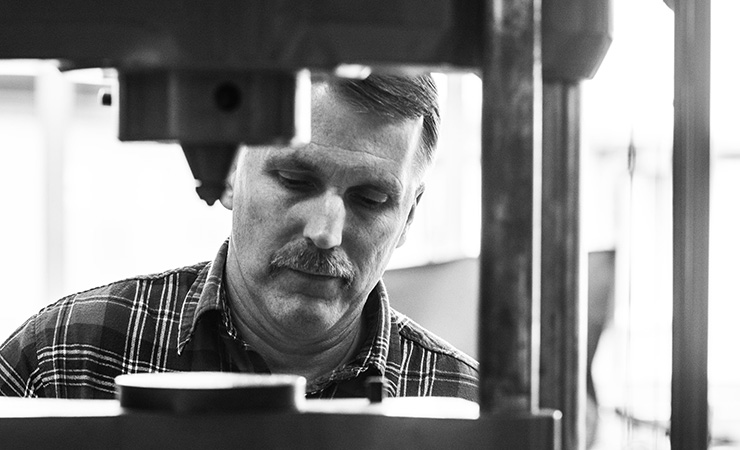 – Over the years, I have tested most wood species. I know how they react to moisture, underfloor heating, pressure and climate changes. I've seen what can be done – and what can't, says Stefan Larsson, who works with technical development at Kährs in Nybro.
– I love the fact that we always get to work with new ideas – but it's also great to have a wide knowledge base, so that we don't have to reinvent the wheel over and over again. It's really exciting to constantly discuss new options with my young colleagues
and to be able to provide facts and information that we have collected in the testing processes over the decades, he says.
– After finishing my college studies and working for some other companies, it was great to return to Nybro. I love working and living here. And I love the forest, spending most of my time off mountain biking in the surroundings.