Pattern flooring
patterned floor changes the impact of a room
Oak Palazzo Biondo
The floor is the base to every interior
What comes to your mind when you think of patterned flooring? Perhaps grand buildings or manor houses in Europe. Undoubtedly, pattern flooring has traditionally been a popular flooring solution in many, but not only, European countries for decades. However, pattern flooring designs work just as well in the heart of a modern home, as well as in more traditional interiors. In fact, patterned floors have been one of the strongest trends in flooring and have continued to soar in popularity, as they offer a distinct and
versatile style to any interior.
The floor is the base to every interior. The way a patterned floor changes the impact of a room is striking, it can give a characteristic and sometimes dramatic expression to the whole interior. Kährs offer you a wide selection of pattern floors, both in terms of designs, flooring materials and installation methods.
Fishbone inspired patterns -
chevron and herringbone
Both are variants of the fishbone inspired pattern. The main difference between them is that herringbone floors are rectangle boards, while chevron boards are cut at an angle. In the chevron pattern, the two planks are angled at the end to come together and form a perfect point. In the herringbone pattern, planks are laid in a zigzag, but stacked on top of each other to create the "point".
Traditionally, these pattern floors have been quite expensive and take more time to install, because of the specific zigzag nature and the high level of precision required in the installation. But with modern flooring technology, we are able to provide you with "ready-made" Chevron wood flooring boards in our Chevron collection. This ingenious construction of engineered patterned boards enables an easier and faster installation.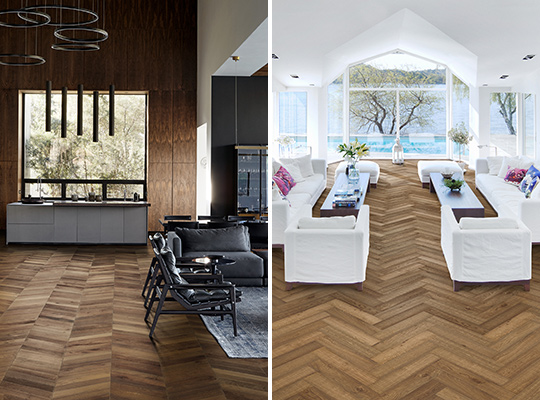 Chevron vs Herringbone pattern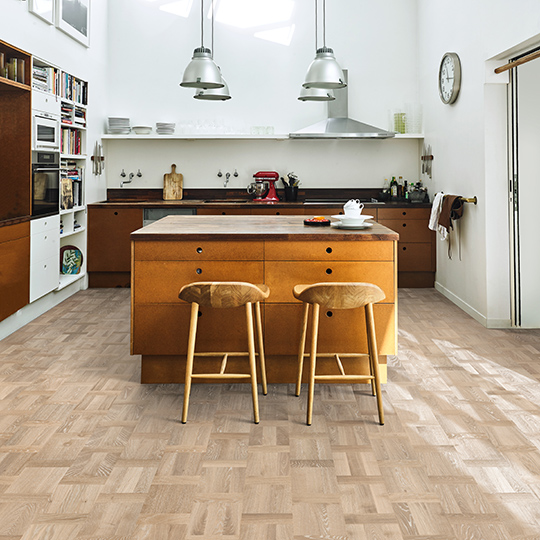 Basketweave with a modern twist
You may have heard of basketweave pattern flooring, a formation consisting of multiple horizontal and vertical strips, adding en interesting dimension to the interior. Basketweave patterns can be arranged in many different ways. At Kährs, we have taken a modern twist and can offer you "ready-made" engineered parquet flooring boards in Dutch and French patterns.
Dutch pattern - palazzo
Based on a classic Dutch design, our "Palazzo" wood flooring boards are arranged in a multi-strip formation, following a box repeat pattern. They have a unique repeating pattern with three short pieces running lengthwise separated by a perpendicular piece. The result is a vivid display of symmetry that brings any room to life.