Development driven by
Passion for perfection
The structure and feeling of the surface is just as important as the colour, in terms of how you perceive a floor.
A precise vision
Development is driven by conviction. A precise vision. For us, it has always been to find new ways of enhancing the natural beauty of wood, while making our floors even stronger and more sustainable. "You could describe our work as a meeting between man and machine – creativity meeting the feasible," explains Patrik Antonsson, project leader of Kährs' technical development. It's extremely important never to be satisfied with what you have achieved. We work closely together in the design team, constantly challenging each other, Patrik says.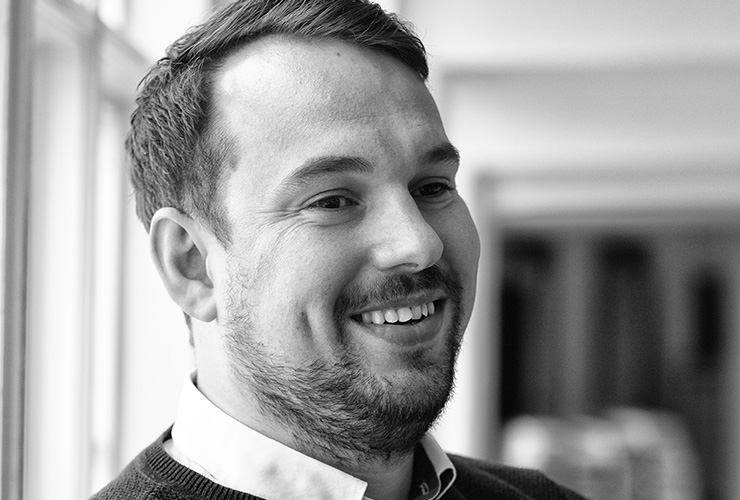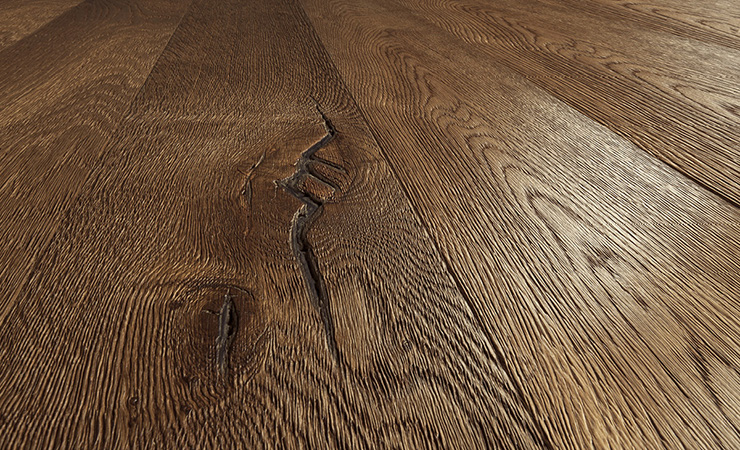 Innovative thinking, blended with experience
An ounce of fashion. A pinch of electronics, fabrics, colours and interior design. A cup of technology. A dose of chemistry. All mixed together using innovative thinking, blended with experience. These are all vital ingredients in the making of new wood floors.
Kährs has always been a pioneer in the wood flooring business. Today, our team of developers represent a combination of expertise and experience in design, technology and chemistry, working in close cooperation to produce new floors. The process typically begins with an idea to identify new looks, colours and surfaces.
– I get my inspiration from many sources – fashion magazines, interiors, furniture, fabrics and even electronic design. When we translate all this into floors, however, we always aim for a natural look, bearing in mind that our floors should remain as attractive tomorrow, as they are today, says Emanuel Lidberg, Creative Design Manager at Kährs.
– Also, we always consider trends in architecture, i.e. how we build our homes. A current trend in Scandinavia, for example, is big windows, covering a whole wall from floor to ceiling. This means that the light falls in a way that can cause reflections on the floor, confusing our sense of colour. In order
to address this, we're currently working with new ultra matt surfaces that absorb the light in a new way, he explains.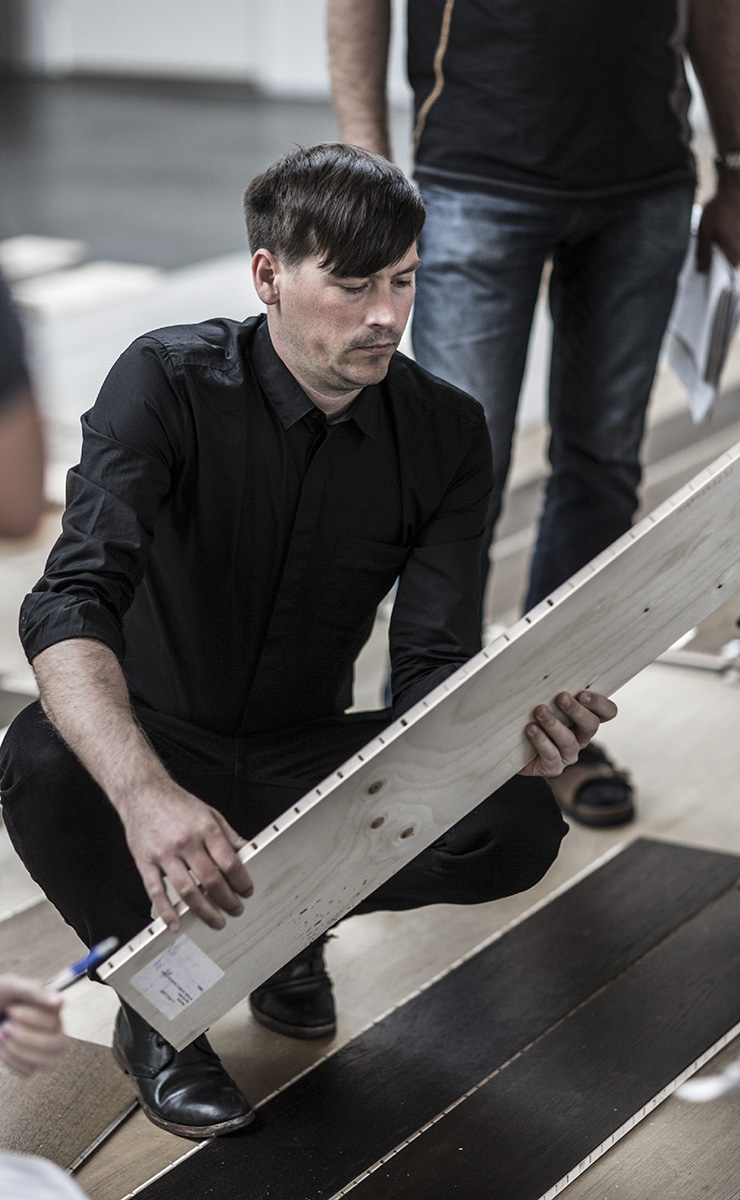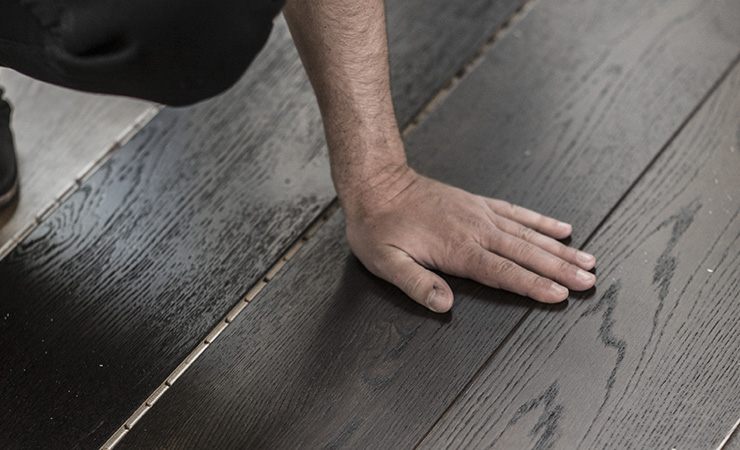 Man meeting machine, in new design line
But creative thinking isn't only applied to looks. Kährs also boasts a history of innovation in the production process of wood floors. One of the most recent investments at the Nybro plant is a robotized design line, based on advanced technology that adjusts itself to each plank in order to create a desired look that has been pre-programmed into the computer system that runs it.
– Using this line, we can create a number of looks, rustic or homogenous, by enhancing or reducing natural characteristics of the wood, such as grain, says Patrik Antonsson.
Patrik, who has been breathing wood since he was a baby, with both a mother
and grandfather working for Kährs, has been instrumental in achieving the new, innovative line, which took some 2.5 years to develop.
– It's been a major challenge, but also extremely interesting to produce a machine that thinks like a man. It required a combination of expertise and technology from Germany, Italy and Sweden to achieve, he says.
The company is always evaluating new ways of improving the production process from a number of aspects – with the overall object to use more of the raw material,
not least from a sustainable point of view.
A large percentage of the floors produced by Kährs are made from oak. But current development projects include using other wood species – that, with new technology, could be made to attain desired looks and performance.
– It's extremely important never to be satisfied with what you have achieved. We work closely together in the design team, constantly challenging each other, Patrik says.
The surface is what meets the eye – and the feet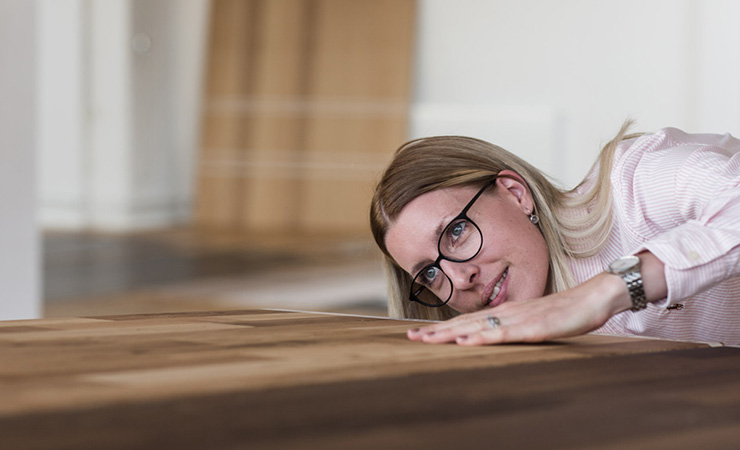 Another important aspect of the floor is the surface. Sara Hagman has an MSc degree in chemical engineering and is working as a development engineer and surface treatment specialist at Kährs. The work mainly involves leading projects within this area. She works closely with the design team at Kährs, as well as suppliers of surface treatment agents, to constantly perfect the look, durability and sustainability of the surface treatments.
– A lot has happened within this area since I started working for Kährs seven years ago. Focus is both on aesthetics – colours and looks – technical performance and environ­mental aspects, Sara says.
Before a new lacquer, for example, is used, it goes through a number of tests – carried out by Kährs, the supplier and external testing institutes, in order to ensure that it meets the company's high demands.
– Some people ask how I can be so dedicated to what they see as a small detail. But it's not just one type of surface treatment, look or properties. It's lots of them! Each with unique performance features and a lot of development work behind it. The surface is such an important part of how you perceive a floor and it provides the all important protection of the wood. It's fascinating how you can dig so deep in every detail, Sara says.