The main
Colour trends 2018
In this article you will find the main trends Dulux has forecasted for the year.
Colour trends 2018 from Dulux
"A turbulent and increasingly complex world calls for cosy, kind and embracing homes. We need our homes to be a warm oasis where we can relax with our family and friends - a place for nurturing our inside rather that an Instagram perfect outside", Per Nimér, Design Manager at Dulux explains.
The heart wood home
A Heart Wood home is a welcoming home where you feel instantly at ease, surrounded by the gentle grey-pink tones of heartwood. Delicately textured fabrics offer a subtle contrast to smooth marble and copper, and well-worn furniture sits alongside newer pieces with geometric forms. The Heart Wood Home palette reflects this versatility, with soft cocoa flowing into bolder shades of ink blue and purple.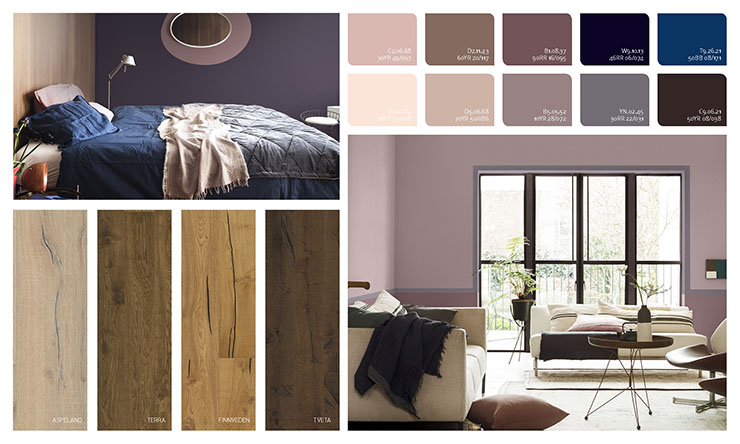 The comforting home
The Comforting home can be your retreat to shut out the noise, your haven to shelter in and your sanctuary to find balance. Warm woods, leather, silk and velvet combine to create a space that you want to touch and sink into. The comforting homes show an eye for detail, where the dedicated use of tone-in-tone colours enhances the architectural features of the home. Heritage hints combine with natural materials and warm-tone woods create a relaxed, grown-up luxury.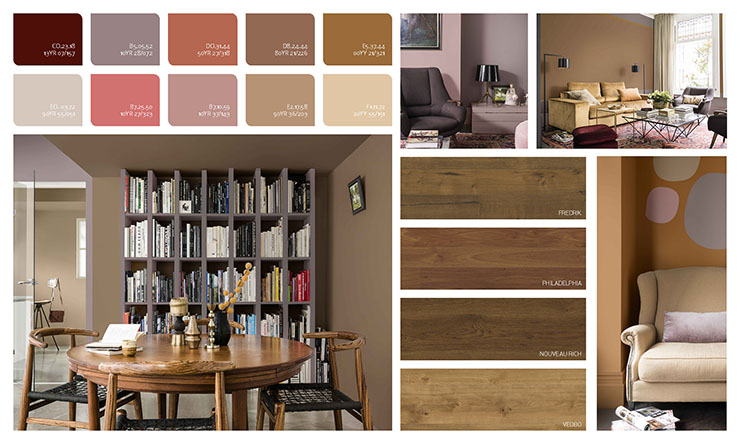 The inviting home
The Inviting home can be your den to snuggle up in, your nest to grow and develop in, your camp to create memories together with your family and friends – in real life. Fabrics are natural – cottons and linens – and warm, muted colours reflect a soft minimalism, quiet for the eye and peaceful for the soul. The style is effortless style, where everything has a purpose and clutter is banned.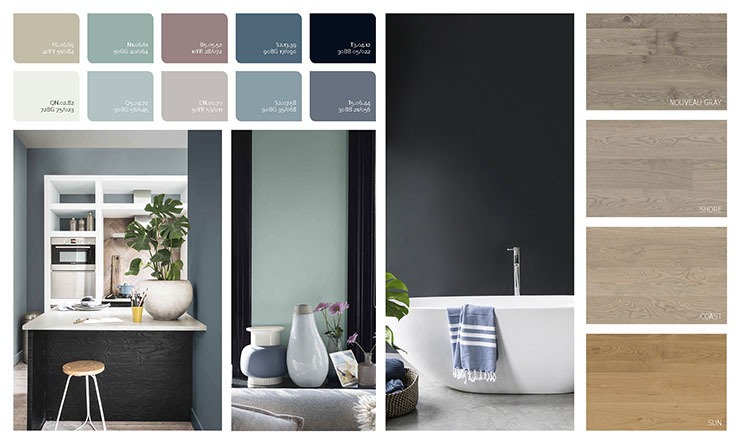 The playful home
The playful home can be your hub to recharge in, your space to curate and dream in. It is above all, a space for drawing inspiration from favourite musicians, authors and artists – somewhere to welcome like-minded friends. There is a sense of energy with vibrant colour focal points and plants hanging from walls. This hub may be small, but the design is clever. Yellow-toned green and gold help spark the synapses and encourage a creative approach to life. Unique patterns can be created painting colours with free hand technique directly on the walls.